Can an NRI invest in Mutual funds?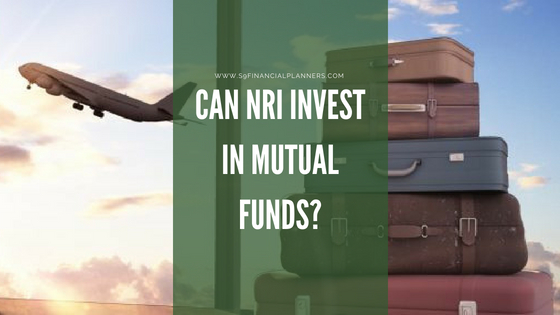 Let's not begin directly with the topic "Can an NRI invest in Mutual Funds?" It's not a surprise when we ask any of our NRI friends about their investments and we get a reply like "I have invested in real estate". It's commonly observed that NRI's have been investing majorly in real estate. It's a pattern NRI have always followed for a long time. But as we say "Don't get too comfortable as nothing is permanent". NRI's also started realizing this when in the past couple of years the real estate dropped its performance mark. They have started questioning whether investing all their savings into the Real estate is a right decision?
Being a culturally rooted country, many of us are too close to family and friends but keeping the emotions aside NRI's decide to go abroad and choose a good career option in terms of monetary growth as that looks promising to them. All they need is a safe secure future, which is why we all are working for. Aren't we?
However, by following the traditional way of investing in real estate has proved not to be working in their favor for 2-3 years. Especially the millennials in the past 2-3 years have not made wealth irrespective of their constant investment in real estate.
Its basic human nature to question things only when it does not work, so now that people have started noticing the stagnancy in Real estate, the questions of alternative solutions have started coming up. NRI's often come to us and ask, " Is Investments in Mutual Fund a safer option for NRIs ?" Or " Is it good for an NRI to do investment in Mutual Funds.? " Or  "Can NRI invest in Mutual funds?"
So to answer all these questions let me give you a brief understanding of it. 
Yes, NRIs can invest through Mutual Funds. 
Firstly one needs to understand, you don't invest in the Mutual fund, you invest through Mutual Funds. Mutual Funds helps us in diversifying our assets. One can invest into fixed income instruments, equities, Gold and even into real estate(going ahead) through Mutual Funds. It helps in professional management and diversifying one's investment.
For Conservative types NRI investors, there are options to diversify the investment in debt/hybrid funds wherein they can protect their capital as well as enjoy some decent growth.
India is in its supersonic mode when we talk about its growing economy in the world knocking up over 7% GDP growth for many years. The projections of the World Bank and IMF speculate India's GDP to grow at 7.4% and 7.8% in 2018 and 2019 respectively. If you are an NRI investor who intends for long-term wealth then investing in Indian equities through mutual funds is the right denotation.
Also looking this in wider prospect, Mutual Funds has this dual benefit for any NRI Investor where not only investments are growing but also the rupee value is appreciating against a dollar. The Indian rupee has been in this resolute state and proved to be one of the most persistent currencies in the emanating economies. A very steady exchange rate with the US Dollar is been observed FY 2017-18.
So be relived on this thought, and know that NRI can invest in Mutual Funds. Although, there are Restrictions for US and Canada based NRIs which we kind of believe is expected to change soon. A little sigh of breath is that there are 8 specific fund houses which allow US or Canada based NRIs to invest in which are as below:
Birla Sun Life Mutual Fund

SBI Mutual Fund

UTI Mutual Fund

ICICI Prudential Mutual Fund

DHFL Pramerica Mutual Fund

L&T Mutual Fund

PPFAS Mutual Fund

Sundaram Mutual Fund
There are methods to know how NRI invest in Mutual Funds which I want to cover in our next blog. But before jumping into any funds consult your financial planner.
Think about this and for everything else Money Anna is always around!