Personal Financial Planning – 5 questions to ask in 2019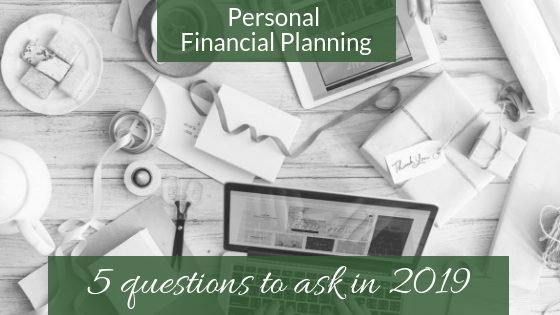 Party plans on!
2018 is coming to its end and many of you might be thinking to yourself about how are you going to end this year with!! Partying with friends, vacation or maybe just chilling at home binge-watching shows and we think Personal financial planning is nowhere in that list…or is it?
We often see people planning out resolutions for next year, rechecking the opportunities missed in 2018, making a checklist or bucket list to achieve, planning to save more, invest more but one thing is missed on by a majority of us, that is personal financial planning. A process of understanding how to construct a bridge between yourself and your dreams.
Two words that are YOU and YOUR DREAMS are interconnected so strongly with your personal financial planning that it needs some time on your priority list before starting the year 2019.
CEIC Data suggests that the gross saving rate in 2017 was 31.3% in India. Which tells us that we are good at savings. However, when it comes to investing, the love for anyone specific asset class is most often seen. Some love gold, some are totally into real estate, some invest heavily into equity. Now with the help of SEBI and Financial Planners conducting Investor Awareness programs, we understand the importance of assets diversification.
Yet I would say it's a far way to understand there should be a goal attached towards your investment. Personal financial planning is not only about investing, saving or taking products for saving tax, but it's also way beyond that. It is about budgeting, cash flows, your income, expenses, assets or financial risk and future life events.
So in the new year, 2019 ask yourself these 5 questions for better clarity of personal finance.
Have you sat and analyzed, why even with decent inflows you still feel there is this cash crunch always?
We hardly sit alone or with someone we trust and discussed our financial plans. We hardly make notes about our cash flows, or a sheet to know where is the surplus coming out or whether we have the scope to cut down our expenses so that we can channelize those amount to reach our financial goals faster.
Am I over boarded with anyone asset class?
We think more of real estate or gold or direct equity and invest maximum into one asset class with a belief that it will help me in the near future for generating a return. Here, many of us miss the pain of the present. The current needs, lifestyle changes and the main pain point having liquidity are missed out.
Have you linked your goal with your asset classes?
Like if you have taken an insurance policy or planning to take one, do you think whether this is sufficient for my goals or I have just taken because my friend has taken the same policy? Doing the same kind of investment because someone close to you does it, is a wrong method to follow.
Is the heavy premium or the investment amount pinching me every month?
With conviction, I started investing and now it is bothering me as I have no liquidity or enough cash to meet my expenses.
Am I living too much in present and ignoring the future or vice versa?
I have met different types of clients, one who believes living for today is more important than thinking about the future, and some who thinks I will sacrifice my present and save my future. Either case, being balanced is the right way to plan a healthy financial life.
We individual can be own financial planner and manage our personal financial planning only if we are aware of our needs and not shut our dreams. If there is any else we are just a click away.
Wish you have a stress free financial year. Happy New Year!