6 Things an Investor can learn from " Sachin : A Billion Dreams "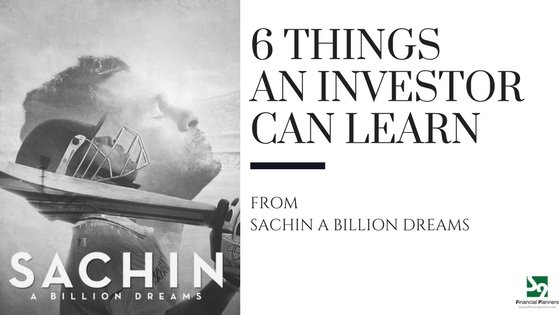 Today what can be absorbed from movies is the topic been discussed on all major social media platforms. 
The recent pop up in the heap of content is "Sachin: A Billion Dreams " 
As a financial planner what can I pick was my quest, that's when I realized that there are 5 qualities which can be learned by an Investor in their financial life from Sachin Tendulkar.
Chasing Dreams/ Set goals:

 

The constant dream, the constant goal Sachin Tendulkar had was to lift the world cup. Right at the beginning of his career his target was set to win the world cup and make his country proud. With his hard work, he was evidently successful in doing so. This was only possible because he knew what his target was. As a financial planner, I would always advice an investor to right down his financial goals so that he very well knows what is he chasing. The major reason for not able to achieve financial success is because we don't have our goal in front of us. Is it important to know why do we choose a particular investment type for what purpose? Is it directly linked to my short term goal or long term goal? What are my goals?
Homework: Sachin Tendulkar never went on the field with just suggestions

 

given by a friend or colleague on how to play. Before every tournament, he did his homework thoroughly about the opponent bowlers, batsmen, pitch, studied their

 

strengths and weaknesses and then made his strategies accordingly. As an investor, you should do your market research, ask the second opinion from a financial

 

expert. You need to think whether a particular product suits your requirement or

 

not. What steps can be taken if markets are volatile? What is the difference

 

between the top performing fund house's strategies?
Enactment: Doing his homework in practice pitches was not enough but enacting the same on the field was his real strike. An Investor's part of enactment would be to put the research, drafting of a plan to use. While investing a certain amount an investor needs to follow the set rules and should not get deviated from the goal.
Adaptability:

 

In a career of over 2 decades Sachin Tendulkar came across

 

various situations and several injuries but that did not stop him from scoring. That

 

was adapting to the given situations and changing his style in a way where he

 

does not aggravate his physical injury but he still gets to play for the team and

 

that too with performance. If an investor can see the long term benefit then the certain unpredicted waves won't harm the benefit in the long run. An investor faces various situations in his financial life. There would be certain volatility but as an

 

investor one should adapt to such situations and think what is the best possible

 

step which will help him to withstand these short waves.
Consistency: Let's not forget the most important reason for Sachin Tendulkar having a successful career. It was nothing but consistency. Even though he went through lean patches during match-fixing, his tennis elbow injury but runs were flowing consistently from his bat. He scored emotional knocks in the backdrop of his father's demise during 1999 world cup still he remained consistent. An investor should be consistent with his investments to reach his financial goals. If a SIP is started to reach a particular financial long term or short term goal it needs to be consistent. Consistently often falls prey to excuses. We can be Sachin of our financial life only with consistency.
Patience:

 

There is so much to learn from Sachin Tendulkar. There were situations when he had failed but his patience for learning each aspect of the game better made him what he is today. An investor to faces many such ups and downs in his investment portfolio due to market volatility. But without having enough patience, moving out of your investments won't help in the long run. Therefore for being a successful cricketer or an investor having patience counts.
You guys might find this article more of a biased movie review or Sachin fan review. But honestly speaking any sportsman is a whole book in themselves for us to learn some best virtues of life and Sachin takes the cake, cream, and the cherry all of it.
Do leave your comments below about what do you think about this article!
For everything else, Money Anna is always around!