Liquid Funds – Cash is the King!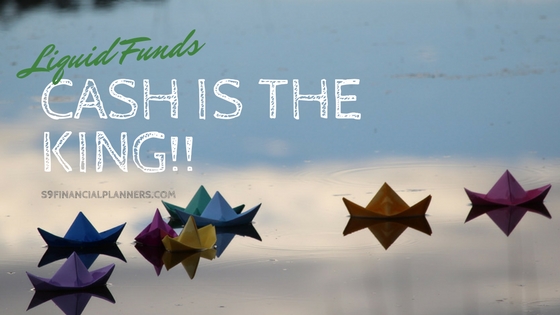 Majority of us have always considered " Cash " as the key liquidity factor. And why shouldn't we?? Afterall Cash is the King!!
To have an uninterrupted and secured flow of transactions liquidity has predominantly been the reason. Gold being so popular amongst masses especially in a country like ours, it is such a commodity that can be sold off even at midnight to obtain cash against it. Probably to feel that there is enough liquidity, we often see people prefer to have cash at home, money is kept in savings account and also Gold bars are bought (obviously not taking Black money into consideration). There is also the other option which majorly Corporates opt for i.e Liquid Funds.
Most of them in Corporates did not prefer having cash at their side or keeping the amount in current account which would not fetch them the desired returns, hence the best choice for them was Liquid funds. However, off lately this method of earning some interest on the idle amount is gaining popularity amongst retail investors as well. However, a lot of Retail investors are still using up old methods and have few questions up their sleeves, so I thought of shedding some light on this topic.
What is Liquid Funds?
In mutual fund, there is a category called as Liquid Funds. The liquid fund is a type of Debt Mutual fund which invests into money market instruments like commercial papers, treasury bills, certificates of deposits and short term bank deposits. Maturity of these instruments are for very short period i.e 14 days to 91 days hence these papers render liquidity and safety with average return simultaneously.
Why Liquid Funds?
The only instrument where you can park your funds even for a day and earn something on it. This something can range between 6% – 7.5%. The instruments where liquid funds are invested are safe because those instruments are with high credit ranking & most importantly one gets the benefit of diversification. Though it's rare but still a possibility that bank might shut down and an individual can get only 1 lac as insurance money in return of loss as per RBI rules irrespective of the deposited amount saved in Banks. However, in liquid fund, the diversification acts like a shield for the risk involved because the investment is diversified amongst various market instruments.
How to Process with Liquid Funds?
Technological development has changed the old methods of processing the application. Now different fund houses have their mobile application one can easily purchase or do redemption on it.
For Example :
– DSP Blackrock and Reliance Mutual Fund have a feature of instant redemption where an individual can instantly redeem as high as Rs.2 Lac.
– Reliance Mutual fund also provides Debit Cards to redeem the amount from the nearest ATM centers.
– Similarly, Axis and Aditya Birla have come up with a mobile application for easy purchase and redemption.
Now, there might be some concerning doubts about whether Liquid Funds outmatches savings account. A lot of aspects in detail can surely be discussed with your financial planner, however me being one of them I would say yes there is a little risk factor corresponding through liquid funds but irrespective of it most definitely an unconventional yet better substitute to Savings and fixed deposit accounts because of no lock-in period and higher returns compared.
Okay, readers, so you figure it out with your financial planner what is the ideal way for you to earn the returns and for everything else, Money Anna is always there!