Real Estate magic revealed!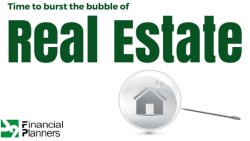 Too much is said and believed about Real Estate, it's time to burst the bubble!
Real magic is to believe in Logic!
It's often observed that people think the much-hyped number games, especially in the real estate sector, is some kind of magic.
Now, why is this thought coming forth every time?
We do have certain notions pertaining to certain investment asset classes, especially with real estate.
Let's say when it is about buying consumer goods, food prices or even equity as investments people feel it's highly priced and they prefer to wait for the sale to barge in!
But when it is time to apply some logic while investing in real estate all of it goes for a toss thinking that some kind of magic will happen!
Most of the time this point is debatable, that the consumable goods, food prices can be analyzed based on its past records. People conclude by coming to an average price for certain products. Even for equities, we have a stock analyst to help us understand the growth graph. However, it is not the case in Real Estate. It is very difficult to conclude the best product to buy as people never see fall in prices and there are not many specialized analysts in this sector apart from many Real estate agents claiming to be one.
So, I thought why not show you the magic of this logical calculation to know which property to be invested in!
9 out of 10 times the property investment or as we call it "The second home" is given on rent. Even if we don't rent it out, we always need to know what would be the possible rent for that property.
The thumb rule for you to understand whether your real estate investment decision is good or bad, all you got to do is look at the rental yield of the property. It is advised by most of the analysts that it should be somewhere around 4% and above and of course more the merrier.
For instance: A property in Mumbai worth Rs.4000000 in the year 2009-10 was fetching a rent of Rs.14-15000 per month.
i.e. 180000 p.a which comes to approximately 4.5% as rental yield.
As per the above-mentioned thumb rule, it is an attractive real estate investment.
Now the value of the same property in the year 2016-17 has gone up to 1.2cr which is three times the original amount but at the same time, the rent of the property has gone up only by 10000 i.e. 25000 per month which comes to 300000 p.a. Now if we calculate the rental yield for the same at today's market value it hardly comes to 2.5%.
This clearly indicates the property is not as attractive as it was before.
So the probability of this property's rate getting tripled in the next 7 years is much lesser than any other property which would be given a rental yield of around 4-5%. This not only helps an investor to increase his investment value but also creates an opportunity to get a good monthly income in the form of rental yield.
Just make sure you follow this logic to see the magic! For everything else, you have Money Anna!